The Federal Elections Commission
Everyone in the blogosphere
appears
very
concerned
over what the
FEC
may do in terms of regulating the political speech of bloggers. I'm not. Last time I checked, the First Amendment was still in place and if the clause "Congress shall make no law respecting the freedom of speech" protects
Piss Christ
, I'm reasonably confident that it will protect my written word.
Regardless of what the FEC does, I don't intend to alter my behavior one iota. I also don't intend to provide any comment on the FEC's public rule-making. To do so would, in my view, lend an air of legitimacy to a process that lies so very far beyond the pale. By my lights, the time has come to put a stop to the nonsense of regulating political speech. We will get there not by playing games with over-reaching regulatory agencies, but by simply ignoring their ill-fated regulations wholesale. Are you listening, McCain -- you, who endured unspeakable suffering on freedom's behalf, should be ashamed of the freedom-trampling constitutional abomination that bears your name.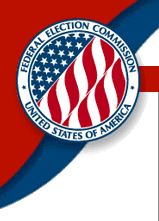 Bonus: Talk about dignifying the process. This goes
overboard
. But then, I shouldn't be surprised. Atrios (he of the mayonnaise spoon) and Daily "Screw Them" Kos have dignified things far worse than a mere intolerable encroachment upon sacred liberty . . .